"Oh, not a logline!" It's a common chorus, but whether you're a: screenwriter, novelist, short story writer, or filmmaker, succinctly communicating your narrative requires the much dreaded and oft maligned logline.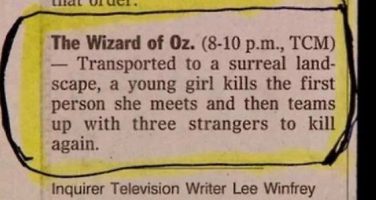 Keep it real!
Yes, it's marketing, but fear not. The logline need not be the unwanted stepchild of your masterpiece. Consider it as a great chef considers the amuse-bouche, or perfect bite appetizer, to tantalize taste buds, stimulate the palate, and get diners salivating for the main course. Your logline will form the basis for your query letters, cover copy, and search engine results, so it should entice with words the way the key art of jacket, film posters, and ad graphics communicate with visuals. It requires a simple, clean communication, with a whopping great punch. Done well, your logline will make producers, publishers, readers, and audiences salivate for the main course, and give them the impetus to buy.
"People hate to be sold, but they love to buy." ~ Jeffrey Gitomer
While the point of the logline is ultimately to sell, no one wants you to tell them why they should buy, but rather give them what they need to reach that conclusion themselves.
You'll be relieved to learn there's a very specific process to loglines that is simple to master, provided you know your story. If you don't know your story, the exercise of writing a logline will help you clarify your narrative very quickly. I write a basic logline as soon as I have a beat sheet, outline, or act structure in my head, before I write the first scene.
If your story is already written, or in progress, you need to mentally parse your A, B, and C storylines. However intertwined they may be, or attached you are to your B and C stories, they often have no place in your logline. If they do, it's generally 2 to 4 words at the end.  Unless your A story is a romance, you only get a few words to communicate the most epic love story ever written to support your thriller, action, comedy, or adventure.
Make peace with that, take a breath, and begin!
Crystallize Your Plot
Boil away the excess until the crystal of your core story emerges. However much it hurts, find 2 to 4 words for your plot that answer the questions: What must my hero do, whether he/she wants to or not? What is my character's primary action towards a clear objective that propels my story?
To prove this can be done for anything I will take on a few high and lowbrow classics:
The Grapes of Wrath – survive the drought
Gone with the Wind – save the plantation
A Tale of Two Cities – sacrifice for love
Close Encounters – get to alien rendezvous
Men in Black – wrangle aliens
It's a Wonderful Life – choose life
Toy Story – stay with Andy
Thelma & Louise – escape relentless misogyny

Some of the perennial favorites are:
embrace destiny
expose the conspiracy
catch the killer
save the child, princess, world
protect the artifact, or chosen one
seek vengeance, retribution, payback
live for today
get the girl/boy
vanquish the oppressor; triumph over oppression
win the race; win the war

The logline process may make you feel like your story is just another of the same basic stories retold for each generation, that only means you are tapping into your story's universal truth; that golden nugget with which we can all identify.
Whatever it is for your story, it must be the core driving force of your plot and represent the thrust of your entire project. Notice how each of the examples above begins with a verb exemplified by the protagonist and a single object that is either tangible or intangible. Once you have several possibilities, look at word choice.  Have you used the most provocative and tantalizing  words? When you have 2 or 3 plot examples, make sure they are all similar with only nuanced differences. If they vary widely in meaning, deeper choices need to be made. If you've got them, move on!
Pump Up Your Protagonist
It's time to choose 2 to 3 words to describe your hero in a way that answers the question: Who takes this action? What is their main motivation? What are they obsessed with doing?
Your character's frame of reference is the tease in your logline. While crystallizing your plot feels as if you're stripping away everything that is unique and genuine about your story, grounding your logline in your character hints at what you've left out. Vaguely answering the question of who takes this journey, whets the appetite to know more about this hero and the quest. It turns the brain on by triggering the question 'How will this be accomplished?' So let the main character description briefly put the audience/reader inside your protagonist's unique point-of-view without giving away your story before it's purchased.
Concentrate on two key, hopefully contrasting, aspects of your character that show uniqueness to differentiate your hero from others in your genre. Unlike the objective action above, steer as far from cliché as possible. A cliché character description isn't a tease, but a turn off, because everyone knows exactly how the bitter alcoholic cop overcomes obstacles. Even if your character is a bitter, alcoholic cop, dig for one element that different in your character's world view. If you find you can only find stereotype descriptions for your protagonist, then that's a revision issue.
Continuing with our same examples for protagonist descriptions:
The Grapes of Wrath – hair-triggered pragmatist
Gone with the Wind – tenacious Southern bell
A Tale of Two Cities – lonely compassionate twin
Close Encounters – disgruntled electrical engineer
Men in Black – pompous rookie agent and his stoic mentor (compound example)
It's a Wonderful Life – altruistic, disgraced banker
Toy Story – loyal cowboy doll
Thelma & Louise – degraded dutiful housewife

Once you're down to a few finalist phrases, look to see you have used the most titillating, or incendiary adjectives, and the most specific job, identifier, or designation. For example, in Grapes of Wrath above, instead of hair-triggered, I could have used short-fused, or easily-angered, but neither has the immediacy of life and death consequences that hair-trigger does.  Second best would have been short-fused, but when you light a fuse, however short, you must wait for the explosion. That waiting creates a mental lull in the excitement of your logline. You want to create a sense of action, energy, and urgency at each stage that prompts the purchase with every word of your logline.
Harden Your Antagonist Force
Great! You've done your protagonist, now apply that same process to your antagonistic force in 3 to 5 words. Antagonistic force is afforded more words to allow for conflict complexity and excitement. The antagonist is the hook of your story.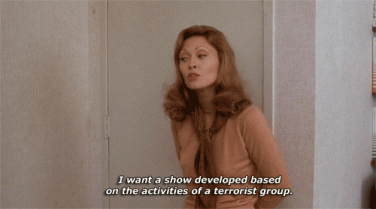 Faye Dunaway as a television executive in 'Network'
The antagonist force is where your originality shines. A great villain, or incomprehensible circumstance, draws people in with that feeling of, 'Oh, yeah, that's my kind of story!' Sisyphus would be nothing without that stone, so make your antagonistic force as seemingly indestructible as possible.
What or who is your antagonistic obstacle? Human, animal, environmental, or internal self? Compound, plural, or singular? Does my antagonistic force seem insurmountable?
The Grapes of Wrath – landowners with fertile topsoil
Gone with the Wind – ravages of civil war
A Tale of Two Cities – populist resistance fighter
Close Encounters – family strife and a government cover up (compound example)
Men in Black – unruly and murderous aliens
It's a Wonderful Life – merciless, greedy bank owner
Toy Story – gauntlet of dangers outside
Thelma & Louise – patriarchy of husbands and police

Again, hone in on word choice to induce fear and woe. I sometimes find the logline writing process so improves my character description that it must be incorporated back into the narrative. Whew, antagonist done, you're in the home stretch now.
Dramatize Your Dire Stakes
I generally find this is the easiest part to fill in because it was the hardest to strip away in stage 1. The stakes are often where the B and C story, the tender heart and soft underbelly, come into your logline.
What happens if your protagonist fails the objective? What dire consequence befalls the innocent if the quest is not fulfilled? What, or who, hangs in the balance?
This varies widely, but in summary tends to fall into common chunks like the objective action, so make it dreadful. Sticking with our same examples:
The Grapes of Wrath – survive the drought, or we all perish
Gone with the Wind – save the plantation, or lose the only thing that truly matters
A Tale of Two Cities – sacrifice for love, or risk the life of my one true love
Close Encounters – get to alien rendezvous, or succumb to madness
Men in Black – wrangle aliens, or they will destroy earth
It's a Wonderful Life – choose life, or consign those I love to hardship and heartbreak
Toy Story – stay with Andy, or be cast into oblivion
Thelma & Louise – escape relentless misogyny, or die trying
Erect Your Smashing Logline!
Now that you have all the components you need, hopefully with several examples in each section, let the mixing and matching begin. Once you have all the components, but be aware there are two types of loglines, the Writer's Logline and the Producer's Logline. The only difference is that a writer logline is pure story, whereas the producer, when trying to sell the work, tacks on the title and genre in a brief introduction. It's a really picky distinction specific to screenwriting, but I believe the principle holds for publishing.
When do you use each one?
For non-targeted general communications about your work on websites and social media where your potential audience could be anyone, and seldom those looking to repackage your work, go with the producer's logline to promote the title and orient the reader before storytelling.
For laser targeted marketing in pitches to specific individuals, agencies, or production companies the writer's logline is presumed best. If you've screened your target well, you should already know their genre preferences, and whether your story is in their wheelhouse.
The writer's logline theory is that writers are experts on story, but producers generally view themselves as the expert on selling your story. They often expect to change your title anyway, frequently for the better, so they don't care about hearing titles, only the meat of the story.  Not stating the genre engages the producer's, or publisher's, brain in a small amount of critical thinking to happily discover that your story fits into their slate.  This ah-ha engagement might be enough to get them to look up from their cell phone. If they ask you the genre, likely to confirm their own thinking, or what your title is, they have taken the bait, and you have their full attention.
Not wasting their time on a title they don't care about, or a genre they can figure out for themselves, may seem trivial, but it conveys your respect for their position and immediately connects them to your character and conflict. Getting them to that point without introducing anything that might inject negative neurotransmitters into their cognitive process is crucial.
If you achieve the twin goals of fast attachment to character and conflict, and contemplation of title and genre, you stand the greatest chance of getting your entire project read. Further, you have transferred your project into their long-term memory, because they have added a bit of their own creative energy to your endeavor. Getting their a small bit of their ego attached to your project is the goal. Even if they don't move on this project, they will remember you favorably the next time you call. This is your logline path to a paycheck.
Are you ready?
Here's a basic straw-man template that you can play around with and reorganize for maximum impact depending on which aspect of your story you most wish to promote. If it's action you may want to lead with the consequences, if it's a drama, you want to open with character. I call this part 'pithy playtime.'
A good exercise at this point it to look at the back-cover description of the best-selling books, film, or media in your genre to compare sequencing. Keep in mind those are longer in form than a logline, but you'll be able to pick out the logline within it after this exercise. Here is you starter template:
PRODUCER'S INTRO:

[Book or Screenplay Title] is a [Genre Category] [tale/story/epic/odessy/etc. (optional modifier)] about…

WRITER'S LOGLINE (25 words or less):

[Main Character (Hero/AntiHero)], [Main Conflict/Motivation], must overcome [Antagonist/Obstacle] to achieve [Primary Action/Objective (optional to minimize word count)], or [Dire consequences/Stakes/Worst possible outcome].
Naturally, you'll have to make it your own, with a flow you feel good about, but you're a writer and that's what you do best. Assembling the logline is flexible and you have a maximum of 25 words with which to work. Word length and character count don't matter, so pick fat, juicy words if they work in the flow. Do steer clear of archaic words, or those too intellectually obscure to be inaccessible.
The exercise above consumes a little more than half of your word count, leaving you plenty of room to work out cadence, flow, and embellishment.
You will likely end up with several good ones to choose from, so see which entices your critical readers the most without giving away the farm. I find this works well for me, as they are almost always unanimously in favor of one over the others. Here are several we came up with for:
ALTERED MINDS, a psychological thriller about:
Tommy Shellner, a desperate, tormented horror writer, must prove his nightmares real by unearthing family secrets before his father dies, or surrender to his schizophrenia.
Tommy Shellner, a desperate, tormented horror writer, must unearth the family secrets before his father dies, or lose the last chance to prove his sanity.
Tommy Shellner, a desperate, tormented horror writer, must unearth deadly family secrets before his ex-CIA father dies, or lose all hope of sanity.
Also, feel free to browse the loglines on my JSC Works page where I lead with my title and writer's logline, then follow up with genre and any pertinent additional information.
Whatever you do, consider this brilliant scene excerpted for educational purposes from the 1977 Academy Award Winning original screenplay for the movie 'Network.' If you haven't read the entire screenplay, treat yourself to it soon as it is one of the greatest ever written by arguably the greatest screenwriter of all time, Paddy Chayefsky. Paddy knew a thing or two about pitching the written word:
NETWORK by Paddy Chayefsky (excerpt)
 
59. INT. DIANA'S OFFICE
Morning SUNLIGHT blasting in.  DIANA moves to her
desk, stands behind it, scanning the front pages of
the newspapers piled on her desk, then sits and studies
the overnight ratings also on her desk.  The SECRETARY
enters with yesterday's overnights, a sheet of paper,
which she extends to DIANA, who promptly studies them.
The SECRETARY exits as BARBARA SCHLESINGER enters,
sinks onto a chair with a sigh --

SCHLESINGER
These are those four outlines
submitted by Universal for an hour
series.  You needn't bother to
read them.  I'll tell them to
you.  The first one is set in a
large Eastern law school, pre-
sumably Harvard.  The series is
irresistibly entitled The Young
Lawyers.  The running characters
are a crusty but benign ex-Supreme
Court Justice, presumably Oliver
Wendell Holmes by way of Dr. Zorba.
There is a beautiful girl graduate
student and the local district
attorney who is brilliant and
sometimes cuts corners --

DIANA
(studying the overnights)
Next one --

SCHLESINGER
The second one is called The Amazon
Squad --

DIANA
(studying the overnights)
Lady cops?

SCHLESINGER
The running characters are a crusty
but benign police lieutenant who's
always getting heat from the
Commissioner, a hard-nosed, hard-
drinking detective who thinks
women belong in the kitchen, and
a brilliant and beautiful young
girl cop fighting the feminist
battle on the force --

DIANA
(now studying the front
page of the Daily News)
We're up to our ears in lady cop
shows.

SCHLESINGER
The next one is another investi-
gative reporter show.  A crusty
but benign managing editor who's
always getting heat from the
publisher --

The lesson to take away here is to make your story, and the logline to sell it, appealing in unique ways to producers who are used to hearing essentially the same pitches day after day. If you succeed in doing this, we'll all want to feast our eyes on your fresh and fantastic story!
CONGRATS! You've done it!
Now breathe life into your logline!
You're ready to run with your smashing new logline, so be sure to practice so it trips off your tongue at any business or social occasion. Use your breath to find a rhythm speaking it aloud. Send it out into the world with confidence. You never know when a friend of a friend, spouse or fellow partygoer has a producer or publisher in their sphere. If your logline kills, you won't have to ask them to pass it on, you'll only have to mention that you are shopping your screenplay or manuscript and drop the logline.
Weak, tangential connections in your life can make the greatest change and you never know how that connection will manifest. Don't save your logline for 'important' people, spread it around. That person behind you in the checkout line might have a relative or work for a mover and shaker. They could also buy your work when it's released. I'm not saying be a pest, but if you meet anyone new, ask what they do, and it will prompt them to ask about you. With a logline you can be confident that you have more to say than just, 'I'm writing a novel, screenplay, etc.' You can interest them in your actual work, and five times out of ten they want to read it enough to share their email address.
Feeling shy about giving life to your logline? Check out this TED Talk cued up to the section on how exploring weak life connections builds identity capital by clinical psychologist  Dr. Meg Jay.
The first place you can start sharing your logline is in the comments section of this blog! I'd love to see them and cheer you on. I know future readers will want to learn about your results from this process and know more about your projects. Include your screennames and handles so we can find you on social media. Here's to your great fortune pitching and promoting your work!

WHAT'S NEXT ON JSCRAIL.COM?
Beyond loglines, there is a whole set of synopses of varied type and length for different purposes. Some go by different names in literary and screenwriting circles, but essentially perform the same function. I'll be treating these as a quarterly series under my Story Ache blog category for all things to do with writing process, creative collaboration, marketing, and the quest to distribute.
Future topics on writing process and book, screenplay and film marketing will include:
Short summary, short synopsis, or elevator pitch
One-pager, POP (pitch-on-paper) or full synopsis single page double spaced
Treatment for screenplay or book
Wrestling with 3rd Person Limited Point of View – lessons learned
When should I start branding?
Branding your project vs. branding yourself or production company
The wild world of naming and messaging
Protecting your work – copyright, trademark and guild registrations
Transmedia marketing plans – web and social architecture
Project image versus writer or producer image
Distributor or publisher wants to change your title
Film distribution schedule
Film distribution deliverables
Commissioning key art
Working with a publicist
Budgeting your theatrical premiere

Let me know if there are any you'd like to see next.
Like you, I am kept busy with writing projects, but I will be releasing blogs at least quarterly, sometimes more frequently as time allows. To get notifications for all future blogs, sign up for the mailing list.