The goddess Pele flowed into his birthday eve dream as the city filling his neighborhood's ten worst pot-holes presented itself as his greatest birthday gift. The goddess sparked him up. Burned out thoughts that his time on her molten orb had been eventful enough.
The excitement isn't all behind me? He toyed with Matchbox cars in his mind. Of returning to early dreams of stock car racing. Then moving on to trading in the Subaru for a convertible.
Not that he wanted to turn the heads of younger gold-digging bimbos. He craved the wind in his hair. Hot desert wind from laying open a steel beauty and filling her throat with fuel. A motorcycle might blow him better, but not his hair, what with helmet laws quashing all gusts. But man, I still look good in leathers. He dismissed it all as childish.
Pele transported him to her caldera's edge. She dove into the blistering bubbles. Vaulted up great plums of flaming liquid rock. He stood at the source of all life force. His heart bursting open at Pele's first velocity of heat waves. He leaned into the blaze. Her hot wind pinned his hair back, slicked him wet with instant sweat, and slowly blew him dry.
Loops of harmonic frequency blasted from her fiery lava lake. Radiant orange and gold called his mind to his annual birthday tryst with Olwen, his sun goddess. Will she be jealous of Pele, or tease him like usual. Olwen would rise in a few hours, and he looked forward to her tantalizing.
He broke dawn on Olwen's belly and forgot pot hole plugging. His best birthday present was within him. His blood could still boil with fire and passion. His best lay not in the rear view, but out ahead.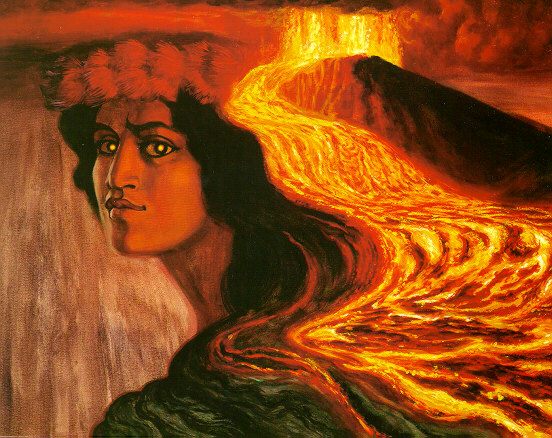 Who is Fred Rubin? He is a wonderful comedic writer, troubadour, and long-time faculty member at UCLA – TFT (Theater, Film & Television). He is a defender of human rights, particularly women's rights and wrote the lines that had the greatest TV Curmudgeon-of-All, Carol O'Conner's Archie Bunker utter the L-word for the first time, prime time network TV. Fred put the words in Archie Bunker's mouth: "She's one of them there labias!" Meaning lesbians, of course.
It was like a laser to my brain when it happened. My open-minded parents were thrilled for the word's entry into the public lexicon and we discussed it at length. What a boon to women's health, women's rights, and comedy. Little did I know I would be studying under this great man and have him stand up for my artistic integrity when my peers could not see past stereotypes to support my vision until after it was written. I can count on one hand the number of people who have stood up for me like that. He believed in my talent and spurred me to write some of my best work by giving me Permission to Fiction!
Fred Rubin has five funny bones and a huge heart. On the 2013 Emmy Awards, Rob Reiner's eulogy to late-great Jean Stapleton (Edith Bunker) quoted lines that Archie Bunker spoke in the TV episode where Edith died. Those lines were written by Fred and his writing partner, so yeah, heart.
Hear him opine wise on the hilarious and insightful #GarbageTown podcast FRED RUBIN (Part 1) // Sitcom Writer/Rosie Wrangler/Song Residual King. You can check out his 60+ hours of prime-time television and movie writing as well as producing and others credits on imdb.
Thanks for all the inspiration Fred, and happy birthday my good friend.
xoJSC